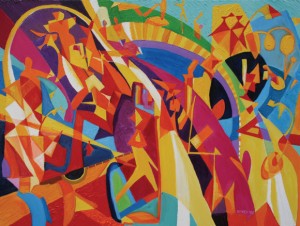 Our mind likes to hang out in the "What's Next Land" and it makes us believe that if we can answer that question we are good to go; we are safe, smart and we know! Happiness is just around the corner… Hmmm.
When I was managing an international team of consultants specializing in leadership development in Paris 20 years ago I thought I was so smart because I could define what's next before anyone else. Yet, I also remember the level of anxiety and internal pressure I experienced everyday.
Today I work with courageous women (a few men too!) who want to redesign their life around their soul mission. They love to move forward and inevitably I will hear, "Once I do this then what?" I understand the anxiety, the will to commit and change. Yet if I had a plan for everyone ahead of time no transformation will happen.
We have forgotten the ways of the ancient spiritual masters' teachings. Student's had no clue what would happen to them and how long they would keep on doing the same thing. They simply trusted their master and had faith.
I am not a spiritual master but one thing I know is that nothing will replace your experience. Your experience does not lie in the knowing, your experience lies in the Being. You need to be in your physical, emotional, spiritual and heart experience. Your mind has to come last not first. It is only through your experience that insights will emerge, wisdom will appear and shifts will be created. Change never happens in your head.
Shifting from what is next to diving into the now of your experience requires help. We cannot change on our own. What you will get is a great sense of clarity and inner peace , a developed intuitive self and an ability to be radiant and vibrant. In brief the benefits are endless.
So when you catch yourself wondering what is next take a breath and smile at yourself.