Workshop Jan.17-Jan 20 2019; Miraval Resort Tucson Arizona
With Tejpal MA, MBA and Shari Gootter MA, LPC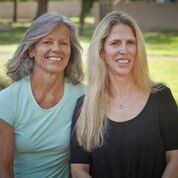 Hear it at many levels.
When shit truly happens in your life you may shut down, go into blame, anxiety, guilt, depression, victimhood, etc. In other words, you are stuck. Before you know it, you are trapped by uncomfortable emotions and an agitated mind that desperately tries to find a way out.
When shit happens it is time to shift. Instead of using your survival skills to get out of your unwanted situation, you need to completely reinvent how you relate to everything.
This "Shift Happens" workshop is the promise that no one has to get stuck no matter your circumstances. Shari and I are really committed to support each of you in this process. We both have experienced the shit and the shift.
Shari has dealt with J.R.A. at a very young age. When she was two years old, moving was a great challenge. Eventually, she ended up losing her sight. She also lost her brother abruptly. Today, Shari lives her life fully: she is a yoga instructor a leadership facilitator and a therapist. Her life is filled with many interests, many friends and a life partner.
I had my share of existential pain. For the first 33 years of my life, I simply wanted to commit suicide. After lots of therapy, healing, a few name changes, a new citizenship and a radical turn in my career, I am now at peace with myself and grateful about my life.
If you want to expand your horizon of possibilities and "unstuck", if you want to feel free and alive, if you want to experience a deeper sense of meaning and gratefulness, then join us.
We are not telling you that this workshop is the answer to all of your problems, yet we are holding the space for you so that you can create deep healing and relate to this world in a new meaningful and loving way.
Are you ready?
To register, click here. 
With much love,
Tejpal